The Conway Department of Sanitation has been named the 2019 Recycling Education Program of the Year by the Arkansas Recycling Coalition (ARC). This award honors an agency or association who has made a significant contribution to the advancement of waste reduction, recycling, and sustainability in Arkansas over the past year. ARC will formally present the award during its 29th Annual Conference & Trade Show.
"Receiving this award and to be recognized for our outreach efforts, it is a great honor," Sanitation Director Joe Hopper said. "Knowing the importance of what we are doing, not only for our current residents but future generations, our staff is working hard every day to keep this responsibility in the forefront of citizens' minds. I am very proud of our team, and the lasting impact we are making in our community and beyond. Conway has always been looked to as a waste management leader throughout Arkansas. I am thrilled to add environmental education to our accomplishments."
Following industry-wide changes and unprecedented expectations, the Conway Department of Sanitation has placed a renewed focus on public education and community outreach. In 2018 alone, sanitation department officials discussed recycling efforts "face-to-face" with more than 2,700 community members of all ages through outreach efforts at greater Faulkner County schools, daycares, churches, homeowners associations, universities, and more. Recycling cart audits with notices customized to each individual cart were implemented, and modernized educational materials have been made available for free download through conwayarkansas.gov, Facebook @ConwaySanitation, and Twitter @CwyARSanitation.
Open to groups of all sizes and ages, call the Conway Department of Sanitation at 501-450-6155 for educational program information. Provided by the department, guest speaker presentations, facility tours, and community event participation are free benefits to area residents, schools, groups, and businesses.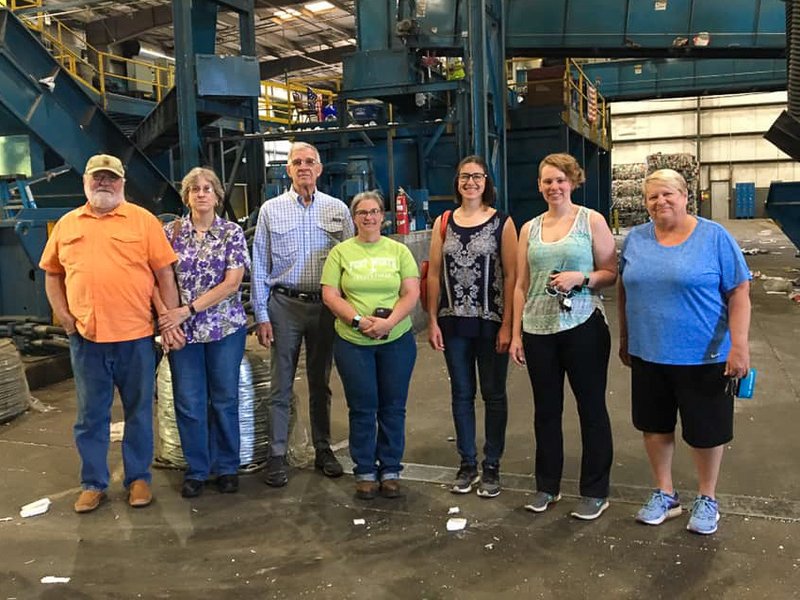 Founded in 1989, the ARC unites companies, government agencies, nonprofit organizations, and individuals in a common effort to promote reduce, reuse, recycle, and sustainability as a primary means of waste management in Arkansas. ARC will hold its 29th Annual Conference & Trade Show this October. Each year this educational event attracts many professionals from across the state and nation in the fields of reduce, reuse, recycle, and sustainability. For more information, visit www.recycleark.org.
Serving the Conway, Arkansas, community, the Conway Department of Sanitation employs more than 90 men and women drivers, collectors, operators, mechanics, and those in many other capacities. The Department provides residential, commercial, industrial, and recycling collection services to more than 25,000 households and businesses. Large roll-off container leasing, facility tours, and recycling education are also available. To learn more about services offered or to schedule a group tour or presentation, visit conwayarkansas.gov.