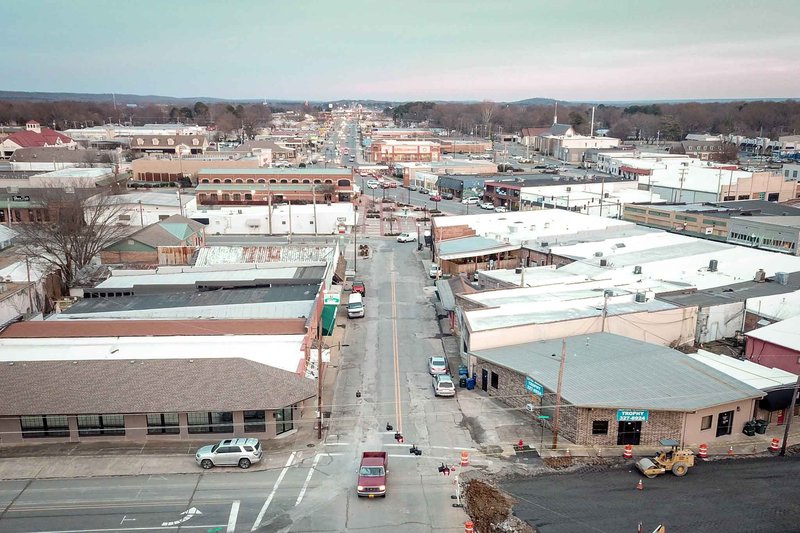 In conjunction with Conway Corporation and other utility companies, the City of Conway is working to complete a four-phase infrastructure improvement project in downtown Conway.
This project will be completed in the following phases:
Chestnut Street from Oak Street to Van Ronkle Street
Van Ronkle Street from Chestnut Street to Harrison Street
Van Ronkle Street from Chestnut Street to Front Street
Mini roundabout at the intersection of Chestnut Street and Van Ronkle Street / Markham Street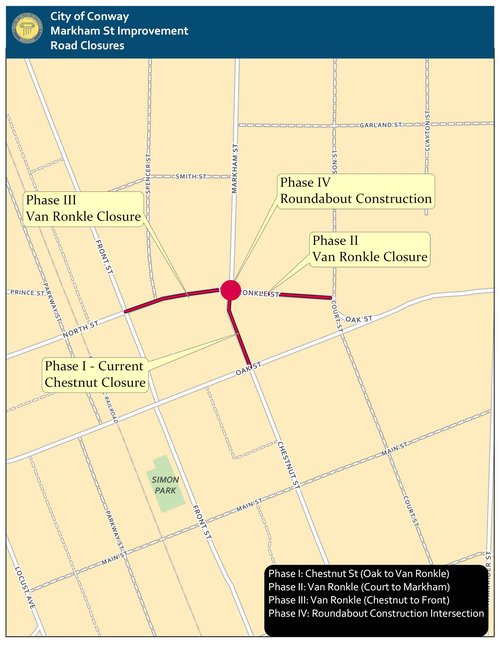 This map is intended to communicate the order in which the roads will be worked on. This map doesn't indicate intermittent closures of streets, sidewalks, and parking.
Excavation work is already underway on Chestnut Street from Van Ronkle Street to Oak Street (Phase I).
"So far, our work on Chestnut Street is moving at a good pace. We need the weather to continue to hold because low temperatures may delay our ability to build curbs, guttters, and sidewalks," said street superintendent Jacob Reynolds. "We haven't experienced any major problems or surprises with this job. We hope it stays that way."
Starting Tuesday, January 29, Van Ronkle Street will be closed to all thru traffic from Harrison Street to Chestnut Street (Phase II). Street parking will also be closed. While wheelchair access will be limited, sidewalks will remain open on north side of Van Ronkle Street.
Businesses will remain open during this time.
"We have excavators and dump trucks sitting idle at the moment. We'll be able to keep up a good pace by closing Van Ronkle Street," said Reynolds. "This will allow us to complete all four phases of this project in a timely manner."
This infrastructure improvement project will include the following:
New asphalt
New mini roundabout
New storm drainage infrastructure
New street lighting
New streetscaping
New parallel parking
New brick crosswalks
Keeping small business owners informed will be an ongoing priority for Mayor Bart Castleberry.
Before the transportation department begins work on Phase III and Phase IV, the Office of the Mayor will coordinate with the Conway Downtown Partnership to communicate developments that may impact small business owners.
If small business owners need assistance during specific dates, Mayor Castleberry encourages them to contact our transportation department at 501-450-6165. Special accommodations can be made in the event of a special delivery or important event.