Bulky Item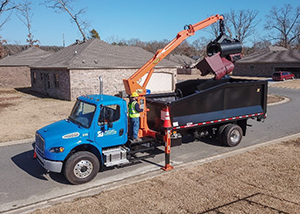 Bulky item collection is a residential-only service offered by the Department of Sanitation. Most general household bulky items are collected at no additional charge for single-family residences utilizing paid green-cart curbside garbage collection and in good standing with Conway Corporation utilities.
An appointment is required.
Three items per collection and up to two collections per calendar year are permitted for each residential account.
Some specialty items (no different than when brought directly to the landfill) will require a nominal disposal fee. Any applicable fee(s) will be discussed when making the appointment and included in the resident's monthly Conway Corporation billing.
Ready to request a bulky item pick up  for your home? It's easy online!
Do you live outside the Conway city limits? If so, contact your city or county government offices for collection requirements and processes. The Department of Sanitation provides collection services only within the Conway city limits.