Commercial Garbage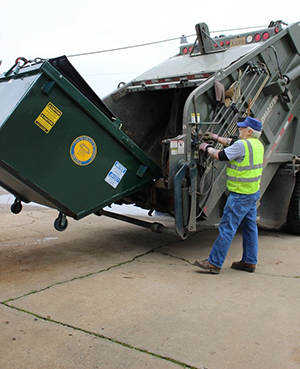 The Department of Sanitation provides commercial garbage collection to commercial properties, small and large, and in good standing with Conway Corporation utilities. Basic service includes one 96-gallon green curbside garbage cart with weekly collection. For larger waste streams, metal containers and associated collection are available.
Garbage collection through the Conway Department of Sanitation is a required utility for all commercial properties within the City of Conway.
Applicable rates and fees are included in the commercial property's monthly Conway Corporation billing.
A commercial account with Conway Corporation must be active before collection can begin.
With commercial garbage collection, recycling services may be available at no additional charge.
Request a new or replacement green garbage cart online! Call (501) 450-6155 for metal containers and roll-off leasing.
Is your business outside the Conway city limits? Contact your city or county government offices for collection requirements and processes. The Department of Sanitation provides collection services only within the Conway city limits.