Commercial Garbage
From universities to restaurants, gas stations to retail shops­, apartments and other multi-family complexes—the Department of Sanitation provides commercial garbage collection to commercial properties, small and large, citywide. Basic service includes one 96-gallon green curbside garbage cart with weekly collection. For larger waste streams, metal containers and associated collection are available.
Garbage collection is a required utility for all commercial accounts within the City of Conway. Applicable rates and fees are included in the property's monthly Conway Corporation billing. A commercial account with Conway Corporation must be active before collection can begin.
With commercial garbage collection, recycling services may be available at no additional charge.
Need to request a new or replacement green garbage cart or metal container for your business? Call our office at (501) 450-6155.
Is your business outside the Conway city limits? If so, contact your city or county government offices for collection requirements and processes. The Department of Sanitation provides collection services only within the Conway city limits.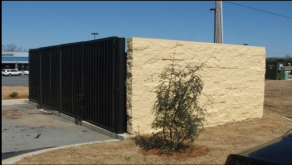 ---
Collection Guidelines
Commercial collection will occur under the following guidelines:
All containers are the sole property of the Department of Sanitation.
It is the commercial account holder's responsibility to lease containers of sufficient number and size to contain the garbage that will accumulate on the premises.
Containers must be kept clean and accessible. The city is not required to remove garbage or other litter not placed in containers or that is placed on top of or around the containers.
Cart and container lids must close completely.
Per state and local regulations, some items are not permitted for curbside collection. These items include, but are not limited to:
motor oil
liquid paint
liquid glue
appliances
e-waste
furniture
mattresses
auto batteries
auto parts
medical waste
tires
construction debris (e.g. carpet, padding, wood, dry wall)
yard waste
---
Holiday Collections
The Department of Sanitation operates as regularly scheduled on most major holidays. However, special city-observed holiday scheduling will occur throughout the year.
Follow us on Facebook and Twitter and watch for announcements in the local paper to stay up-to-date with holiday announcements and collection information.