Facility Tours & Education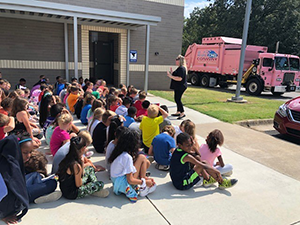 The Department of Sanitation operates an innovative public outreach program advocating and educating for responsible waste and recycling practices. Our award-winning "Smart Recycling" presentations and tours can be customized to classroom lesson plans, timely topics, and special events.
Free presentations and tours are offered to the greater City of Conway community:
We will come to you – virtually, too! A guest speaker visit to your school, business, or group is a civic learning opportunity for groups of all sizes and ages. Our educator will discuss what products can and cannot be recycled, the overall recycling process, proper techniques in waste reduction, and more. Our presentations are tailored to your age group and preferred topic of interest.

See our facilities in action!  Great for school field trips, summer camps, and neighborhood HOAs, tour our recycling facility and landfill (transport and weather permitting). This experience is available Mondays and Fridays, to groups of 10 or more, and for those 3rd grade and older. Tours must be scheduled at minimum two weeks in advance.

Are you a homeschooling family? Meet our educator at the customer convenience area for a special Q&A. Advance notice required. Email our educator directly for this small group experience.

We love community events! Earth Day fairs, recycling symposiums, day camps, and more. If your school or organization is hosting an educational or environment-friendly event, let us know. Our "booth" is ready with refuse resources for all Conway residents.
Ready to schedule our guest speaker or tour? It's easy online!