Litter Prevention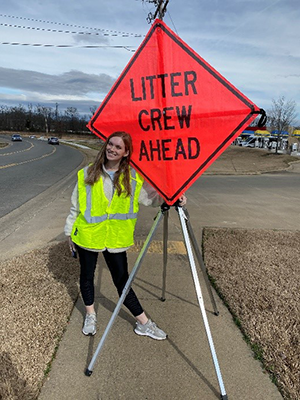 Fast food wrappers, plastic bags, cigarette butts - Garbage does not belong on our sidewalks, in our stormwater drains, or along our roads. Litter affects us all, and so, it takes every citizen's care and determination for litter prevention. To assist our community in these efforts, the Conway Department of Sanitation provides multiple resources:
City Cleanup Crews
The Department of Sanitation employs a small crew of men and women who are assigned weekly to the roadsides of our city's busiest streets. Additionally, the city utilizes third-party crews, such as local Renewal Ranch, to assist as needed.
Adopt-A-Street
The City of Conway's Adopt-A-Street initiative provides for public involvement in controlling litter and community beautification. Businesses, individuals, civic groups, and other organizations are all encouraged to participate. We keep cleanup simple, effective, and without any financial cost to you!
Select any available street sections (1/2-mile to 3-miles in length) within the incorporated city limits of Conway, Arkansas, and the Conway Department of Sanitation will provide your safety gear, orange garbage bags, landfill transport, and signage.
Adopt-A-Street Current Availability Map
Adopt-A-Street Application Packet
---
Citizen Reporting
Help us keep Co Help us keep Conway healthy and beautiful by reporting litterbugs, illegal dump sites, and by identifying areas of our city that need attention.
Report Littering from Vehicle
Report Dumping Violation
Report Littered Areas