Yard Waste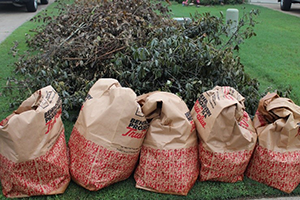 Yard waste collection is a residential-only service offered by the Department of Sanitation. This weekly service is provided at no additional charge to single-family residences utilizing paid green-cart curbside garbage collection and in good standing with Conway Corporation utilities. Curbside collection occurs on the same day as the resident's regularly scheduled garbage collection.
Yard waste is banned from being placed in either of the green and blue curbside carts. State regulations do not permit yard waste in landfills, and yard waste is not permitted within the recycling stream.
Curbside carts found with yard waste inside will not be collected.
Check out our Residential Guide to Yard Waste. Share with a neighbor, too!
Do you live outside the Conway city limits? Contact your city or county government offices for provider information. The Conway Department of Sanitation provides collection services only within the Conway city limits.