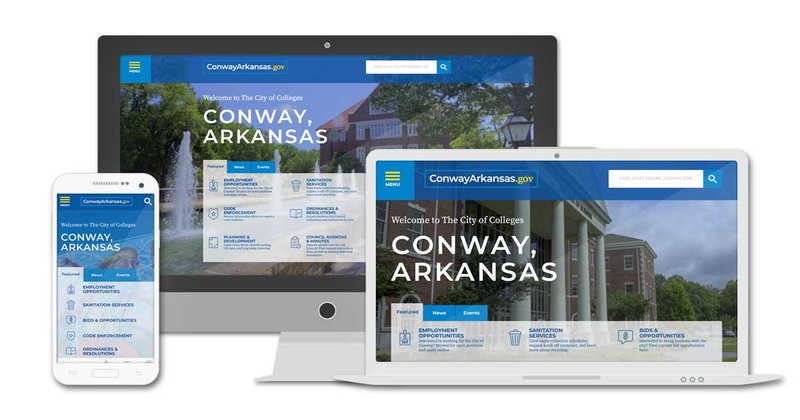 After months of development, design, and testing, the City of Conway has launched a much-anticipated new website for city services.
The city's old domain – cityofconway.org – redirects to the new web address: conwayarkansas.gov.
Building a streamlined website has been a priority for Mayor Bart Castleberry since he took office in 2017.
"In the future, we hope to allow people to do business with the city from the comfort of home," said Castleberry. "I'd like to thank our Information Technology Director Aaron Knight and his team for soliciting feedback and collecting input on how to best serve the people of Conway."
Not only is the new website streamlined and easier to use, but is also mobile responsive and works on smartphones, tablets and desktop computers.
"Our team really studied analytics from our website, we looked at the trends and best practices, especially in the government space, and focused on building a website that would deliver great user experience and prioritize making it easier to do business with the City of Conway," said Aaron Knight, director of the department of information systems and technology.
In June the city launched Open Checkbook as a component of its website redesign. With a few clicks of the mouse, the people of Conway can explore a curated database of unaudited expenditure data and information related to how their taxpayer dollars are spent.
The website isn't finished and will be a work in progress.
"Most important to us is that this website is user-focused. We want to improve and innovate continually, and we invite citizens to give us feedback," added Knight.
A link to a feedback form is located on the top of the website.