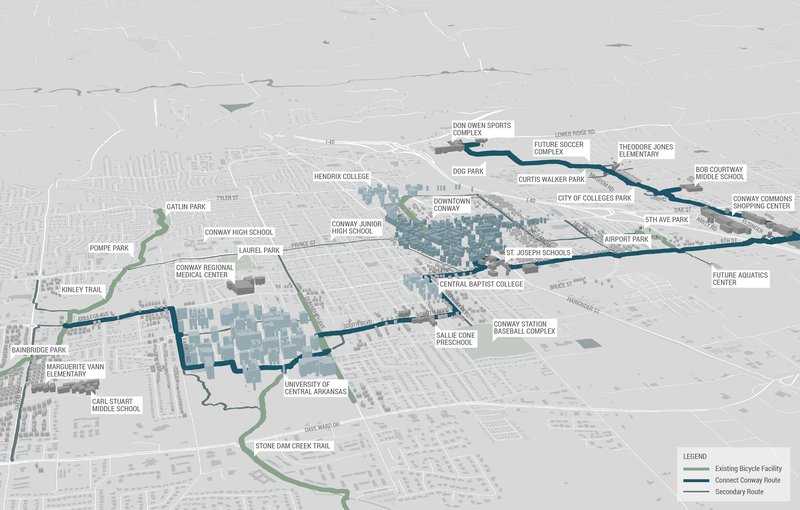 The City of Conway has been awarded $24.6 million from the United States Department of Transportation to construct the Connect Conway greenway trail. The money comes from the Rebuilding American Infrastructure with Sustainability and Equity (RAISE) discretionary grant program.
Connect Conway aims to build a safe, equitable, and accessible transportation system through investment in 15 miles of bike and pedestrian infrastructure, providing a viable transportation option for many by connecting ten city parks, seven schools, three major retail areas, three higher education institutions, fourteen major employment centers, sixteen neighborhoods, and other vital community services.
"I'd like to thank our team at the City Hall who put in the work to get the job done successfully," said Mayor Bart Castleberry. "A number of community stakeholders came together to work on a short timeframe on this historic endeavor. I'd especially like to thank Finley Vinson, Felicia Rogers, Robbie Alberson, Aaron Knight, James Walden, and Kurt Jones."
Most of Conway's existing bike and pedestrian infrastructure is in the city's western portion. Connect Conway will create a crucial link between the eastern parts of Conway and west Conway, providing more equitable access to services and opportunities.
"The name of the project rings true to what the project is all about: connecting Conway," said Planning & Development Director James Walden. "This will be a tremendous recreational asset. But it provides a real transportation option for those who can't or choose not to drive."
Full economic and community participation is nearly impossible for those without access to a personal automobile. The construction of Connect Conway will provide a tangible and significant benefit to those community residents and stakeholders by increasing personal mobility with a safe, accessible transportation alternative.
"This grant will enable us to take a huge step to provide a viable alternative for the people of Conway to vehicular transportation through inter-connectivity between parks, schools, neighborhoods, and commercial centers," said City Engineer Kurt Jones. "We've taken small steps in the past. This is a giant leap."
Connect Conway's work began four years ago and has evolved and been refined over the past several years. Grant applications were developed as early as 2018 and submitted in previous application rounds. 
A Project Advisory Committee was formed for this application to guide the process and provide valuable input. The committee consisted of members from the University of Central Arkansas, Conway Area Chamber of Commerce, Conway Development Corporation, Hendrix College, Conway Corp, Community Action Program for Central Arkansas (CAPCA), Conway Public Schools, Conway's Bicycle and Pedestrian Advisory Board, Central Baptist College, and Community at Large members. City Council member Shelley Mehl helped lead the committee along with city staff.
After the public engagement process, engineering work began, and programming was identified and compiled. Crafton Tull, an engineering and planning firm, provided technical assistance, preliminary engineering, and environmental information that aided the grant application.
The development and writing of the application was led by the City's Grant Administrator Robbie Alberson, Director of Planning and Development James Walden, Chief Information Officer Aaron Knight, Transportation Director and City Engineer Kurt Jones, and Long-Range Planner Kyle Kelly. This team met weekly for nearly 11 months, developing a competitive application that met the US Department of Transportation's requirements for the RAISE program. Letters of support were also garnered from valuable partners and leaders in the community, including Senators Boozman and Cotton and Congressman Hill. The application was submitted on April 14, 2022.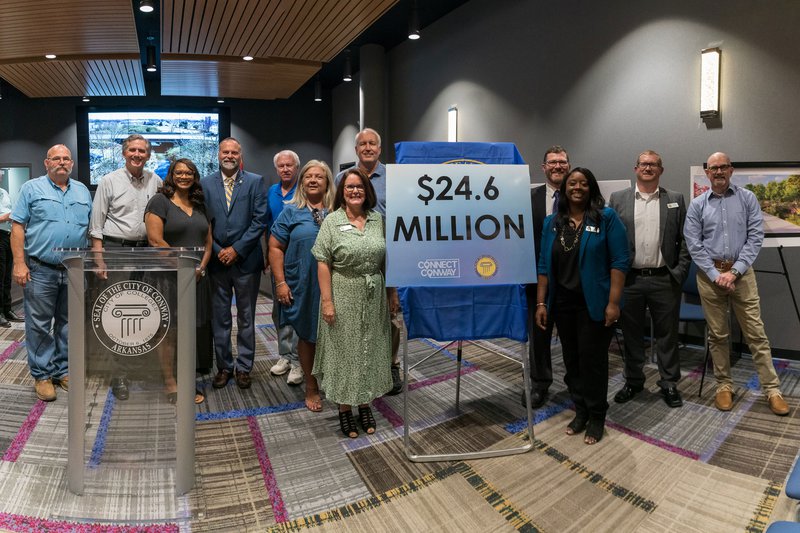 Congressman French Hill said in a statement, "Over the past four years my office has worked with city of Conway to fine tune its grant application and I'm delighted that hard work has persevered, and now the Connect Conway vision is one step closer to reality."
Senator Tom Cotton said in a statement, "For years, the city of Conway has worked towards this goal—and thanks to the dedication of local leaders, 'Connect Conway' can now move forward. Conway is already a flourishing center for education and culture in our state, but this comprehensive new project will make the city an even more attractive place for Arkansans to learn, visit, and raise their families."
RAISE Grant funds will be available for obligation through September 30, 2026. Projects funds must be expended by September 30, 2031.
About RAISE Grants
The Rebuilding American Infrastructure with Sustainability and Equity, or RAISE Discretionary Grant program, provides a unique opportunity for the DOT to invest in road, rail, transit and port projects that promise to achieve national objectives. Previously known as the Better Utilizing Investments to Leverage Development (BUILD) and Transportation Investment Generating Economic Recovery (TIGER) Discretionary Grants, Congress has dedicated nearly $9.9 billion for thirteen rounds of National Infrastructure Investments to fund projects that have a significant local or regional impact.
In each competition, DOT receives hundreds of applications to build and repair critical pieces of our freight and passenger transportation networks. The RAISE program enables DOT to examine these projects on their merits to help ensure that taxpayers are getting the highest value for every dollar invested.
The eligibility requirements of RAISE allow project sponsors at the State and local levels to obtain funding for multi-modal, multi-jurisdictional projects that are more difficult to support through traditional DOT programs. RAISE can fund port and freight rail projects, for example, which play a critical role in our ability to move freight, but have limited sources of Federal funds. RAISE can provide capital funding directly to any public entity, including municipalities, counties, port authorities, tribal governments, MPOs, or others in contrast to traditional Federal programs which provide funding to very specific groups of applicants (mostly State DOTs and transit agencies). This flexibility allows RAISE and our traditional partners at the State and local levels to work directly with a host of entities that own, operate, and maintain much of our transportation infrastructure, but otherwise cannot turn to the Federal government for support. Learn more.