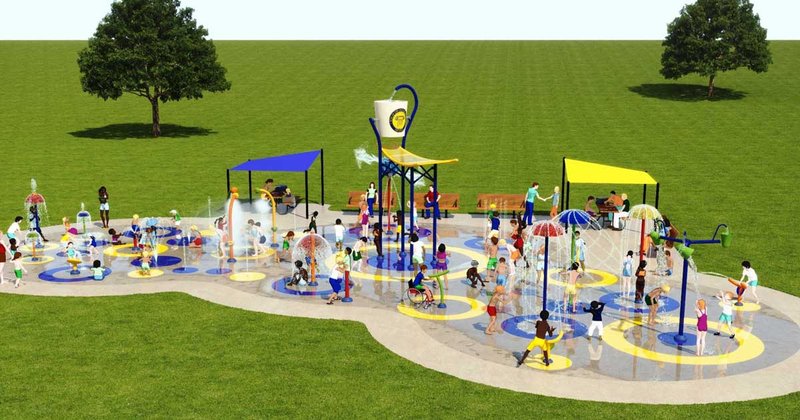 The City of Conway will hold a groundbreaking ceremony for the city's second splash pad at Fifth Avenue Park on Wednesday, February 27 at 2:00 p.m. The event will be free and open to the public.
"Since our first splash pad was such a hit with children and their families, choosing Fifth Avenue Park was a no-brainer because we're planning to invest in additional upgrades in the near future," said Mayor Bart Castleberry.
"Building a new restroom facility last Summer was a step in the right direction," added Mayor Castleberry. "We need to improve accessibility of the park by building an additional parking lot and by improving the parking lot currently in place. The picnic pavilions get the job done, but we can do better."
Like the city's first splash pad at Laurel Park, the new splash pad will be free to use and open to the public. The 5,500 square foot layout will mirror the splash pad at Laurel Park.
The splash pad will include three activity bays: toddler, family, and action. Each bay will offer a variety of play areas containing dynamic water elements tailored to various ages and abilities.
According to community development director Kiera Oluokun, the splash pad's $330,000 price tag will be funded through Community Development Block Grant (CDBG) and Conway Advertising & Promotion funds.
WHO: City of Conway, Arkansas
WHAT: Splash Pad Groundbreaking Ceremony
WHEN: Wednesday, February, 27 at 2:00 p.m.
WHERE: Fifth Avenue Park, Conway, Arkansas (Directions)
---
Media Contact
Bobby M. Kelly III
Communications Coordinator, Office of the Mayor
City of Conway, Arkansas
E bobby.kelly@cityofconway.org
P (501) 428-0777
T @cityofconway