The Arkansas Department of Transportation (ARDOT), in partnership with the City of Conway, held a public involvement meeting to discuss the improvement study for Highway 65B (Dave Ward Drive) from Highway 365 (South Harkrider Street) to Interstate 40.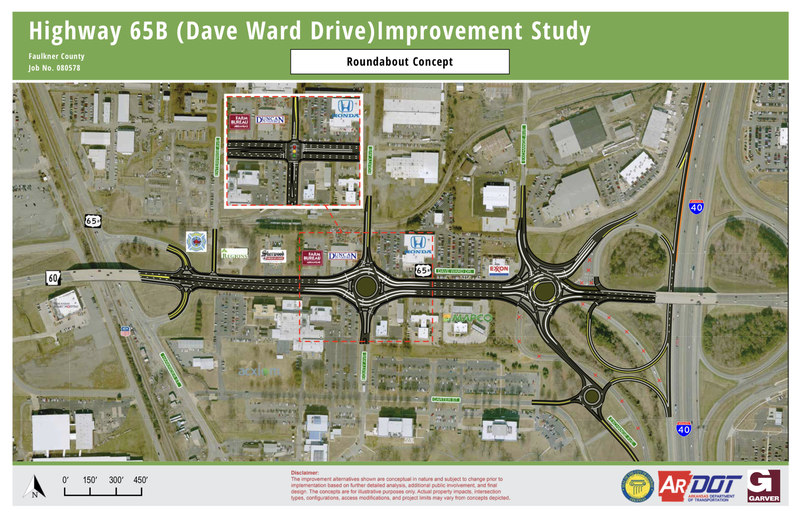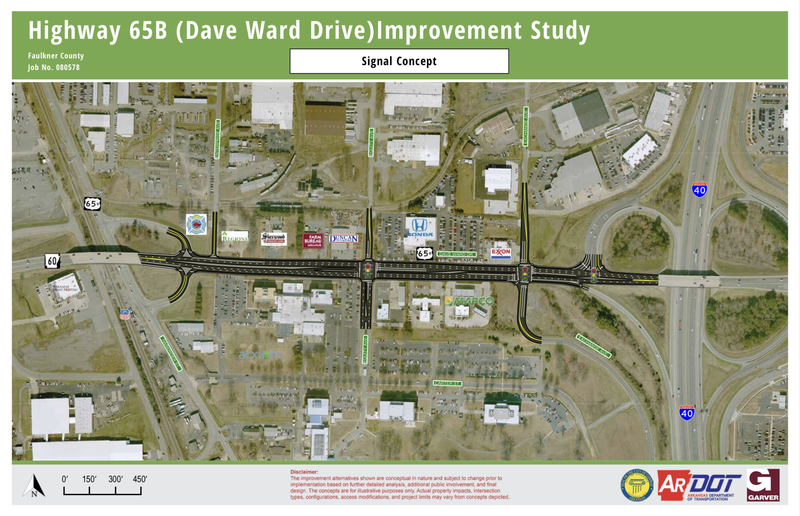 Highway 65B (Dave Ward Drive) in Faulkner County provides the most direct connection for regional trips between Conway and Interstate 40. Highway 65B also facilitates local trips between residences, employers, retailers, service providers, and educational facilities.
Traffic volumes are high between Highway 365 and Interstate 40. As a result, road users frequently experience delays which hamper mobility between Conway and other areas of the region and state. Continued traffic growth is expected to further degrade future mobility performance.
Study Timeline
This improvements study is estimated to be complete in early 2020. No construction funds have been identified for any improvements presented in this study. Additional public involvement opportunities will be provided prior to any construction activities.

Public Meeting Purpose
The project team is answering questions and requesting feedback on conceptual improvement alternatives that were developed as a result of the improvement study for Highway 65B between Highway 365 and I-40. The improvement alternatives are based on prior public input and the ability to address deficiencies identified during the study process. The deficiencies were identified based on an evaluation of existing and future traffic operations, historical crashes and safety performance, infrastructure conditions, and other considerations.
We appreciate your involvement in this study and any comments or questions you provide on the materials and information presented at that this public meeting. Comments may be submitted through Wednesday, November 20, 2019.
Submit Feedback by Mail
Jon Hetzel
Garver
4701 Northshore Dr
Submit Feedback by Email
publicInvolvement@GarverUSA.com
Related