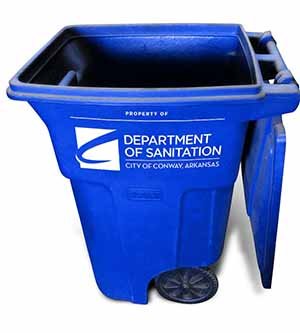 Residential Recycling
The Department of Sanitation provides residential recycling collection to single-family residences utilizing paid green-cart curbside garbage collection and in good standing with Conway Corporation utilities. This service includes one 96-gallon blue curbside recycling cart with weekly collection. Curbside recycling collection occurs throughout the Conway city limits on Mondays.
Citizens residing in multi-family complexes where green-cart service is not utilized are encouraged to bring recyclables directly to the city landfill.
Need to request a new or replacement blue recycling cart for your home? Submit your request online.
Do you live outside the Conway city limits? If so, contact the Faulkner County Solid Waste Management District for collection requirements and processes. The Department of Sanitation provides collection services only within the Conway city limits.
---
Accepted Recyclables
Conway's recycling collection is a co-mingled program in which no sorting of recyclables is necessary. Our 35,000-square-feet recycling center, featuring both automated and manual sorting, processes approximately 100 tons of recycled material weekly.
Want to see our recycling facility in action? Learn more about our Facility Tours & Education.
We accept the following clean, dry materials:
Plastic Bottles & Jugs ♻️1 ♻️2
such as soft drink bottles, gallon jugs, sports drink bottles, water bottles
Newspapers & Inserts
(remove plastic wrap and/or rubber bands)
Mixed Paper
such as phone books, junk mail, magazines, catalogs, notebook paper
Paper Boxes
such as cereal boxes, snack bar boxes, frozen meal boxes, gift boxes
(no plastic liners or inside bags / no visible food or grease)
Cardboard
(boxes must be flattened / if too large for cart, stack nearby)
Aluminum Cans
(keep tab on the can or place tab in the garbage)
Steel Cans
such as vegetable cans, coffee cans, bean cans
(no visible food or grease)
Shredded Paper
(must be bagged separately in clear bag)
Styrofoam
white, beaded styrofoam only
(must be bagged separately in clear bag / no to-go containers)
Common items NOT accepted in your curbside recycling cart: food waste, plastic film, to-go containers, needles of any kind, pet food bags, aerosol cans, aluminum foil, batteries, mirrors, ceramics, used napkins, plastic bags, yogurt cups, clothing, toys, packing peanuts, plastic cups, or plastic packaging.
Did you know? Plastic shopping bags are best recycled when returned to the retailer. Bags should never be placed in your curbside recycling cart. We do offer the convenience of drop-off stations for plastic shopping bags at both our Reuse Center and the landfill customer convenience area.
For reusable items still in good to excellent condition, drop them off at the city landfill for inclusion in our Reuse Center!
---
Collection Guidelines
Curbside recycling collection will occur under the following guidelines:
Curbside carts must be placed at the curb no later than 7:00 a.m. on your regular collection day.
Curbside carts must be placed on a flat surface no less than 3-feet from all obstacles (e.g. other carts, utility poles, mailboxes, vehicles, holiday décor, etc.) and within 2-feet of the curb.
Place the cart where it opens toward the curb/street and the handle is toward the home.
Glass is never allowed in your curbside cart.
Large cardboard boxes must be flattened and placed 3-feet from the cart, no more than 2-feet from the curb, and secured to avoid blowing.
The cart lid must close completely
---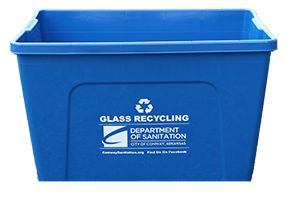 Glass Recycling Guidelines
Glass is never allowed in blue recycling carts. Instead, glass recycling bins are available to residents at no additional charge. Rinsed, glass bottles and jars of all colors are accepted. Labels and lids are acceptable. Light bulbs of any kind, appliance glass, window panes, mirrors, and tempered glass are not accepted.
Curbside glass collection occurs on your day of regularly scheduled garbage collection.
Request a glass bin for your home! Submit your request online.
---
Other Recyclables
No other recyclables will be accepted curbside. Residents may bring the following items to the city landfill (nominal fee may apply):
Electronic Waste
such as televisions, tablets, cellular phones, gaming stations
Household Hazardous Materials
such as motor oil jugs, chemical buckets, batteries, and paint cans
(containers must be dry, liquids will not be accepted)
Passenger Vehicle Tires
non-commercial tires only
(must be off the rim)