---
Accepted Curbside Recyclables
We accept the following clean, dry materials:

Common items NOT accepted: plastic bags, food waste, face masks, gloves, to-go containers, medical waste of any kind (e.g. needles, band-aids, IV bags, tubing), personal hygiene products, pet food bags, aerosol cans, aluminum foil, batteries, mirrors, ceramics, used napkins, plastic wrap, yogurt cups, clothing, toys, packing peanuts, plastic cups, used paper plates, or plastic packaging.
---
Collection Guidelines
Curbside recycling collection will occur under the following guidelines:
Curbside carts must be placed at the curb no later than 7 a.m. on your regular collection day.
Curbside carts must be placed on a flat surface no less than 3-feet from all obstacles (e.g. other carts, utility poles, mailboxes, vehicles, holiday décor, etc.) and within 2-feet of the curb.
Place the cart where it opens toward the curb/street and the handle is toward the home.
Glass is never allowed in your curbside cart.
Large cardboard boxes must be flattened and placed 3-feet from the cart, no more than 2-feet from the curb, and secured to avoid blowing.
The cart lid must close completely
See our recycling facility in action! It is an unforgettable experience for all ages.
---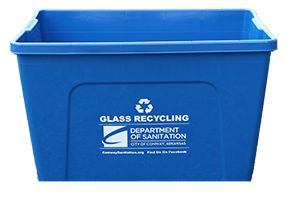 Glass Recycling Guidelines
Glass is never allowed in blue recycling carts. Instead, glass recycling bins are available to residents at no additional charge. Rinsed, glass bottles and jars of all colors are accepted. Labels and lids are acceptable. Light bulbs of any kind, appliance glass, windowpanes, mirrors, and tempered glass are not accepted.
Curbside glass collection occurs on your day of regularly scheduled garbage collection.
Request a glass bin for your home!
---
Other Recyclables
No other recyclables will be accepted curbside. Residents may bring the following items to the city landfill for legal disposal and reuse (nominal fee may apply):
Electronic Waste
such as televisions, tablets, cellular phones, gaming stations
Household Hazardous Materials
such as motor oil jugs, chemical buckets, batteries, and paint cans
Passenger Vehicle Tires
non-commercial tires only